You may wonder the right time to take your first step towards singing, and you might be deciding whether to start taking vocal training, which explains why you are reading this guide that talks about the best age for one to learn how to sing. What is the best age to learn singing is one question that has been popping up frequently, and you might be considering abandoning learning how to sing now till few more years. If you intend going professional with singing, you should consider starting now, but it is okay for you to learn how to sing at any stage or age. This has been proven by so many singers today, so we encourage you to continue reading this guide if you are considering taking classes on vocal training.
Singing is one of the most natural things to do or one of the most natural talent people have, and so many humans have started making music thousands of years ago. Learning how to sing is a little bit different, and though music sessions are ongoing right from birth, it is until a person gets to age six or seven that he can start learning how to sing. Take choristers for example, they go for auditions and get trained in a year or two, but not all kids are ready to start taking singing classes at a very early stage. Kids tend to develop an interest in music when they get to high school, and this is the stage where they take singing very serious.
Children tend to start singing at various ages, and some might even start learning how to sing before learning how to talk. This is very common if the child has been exposed to the musical world either as a baby or during prenatal stages, and singing at a very early stage helps kids to develop skills like social and motor skills. It might not be okay to enroll a little child for intense vocal training, but a good teacher will help in building them up at their level. When a child starts singing might be dependent on the peer group, meaning they will love music if the kids they are involved with loves music too.
It is very okay to encourage children to sing, and it is very much okay if you start singing to them yourself. Singing has its benefits as it boosts the bond between parent and child. People might ask if they can learn how to sing at any age, and the answer to that question is YES. Anybody can learn how to sing at any age, and there are singing teachers that specializes in teaching people of different ages how to sing. It doesn't matter whether you are aged six or aged sixty, but there are people that have a natural thing for singing which puts them at an advantage. There are people who find it difficult and have to work hard through every learning curve.
What Is The Best Age To Learn Singing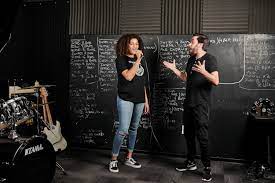 Those who wish to learn how to sing should opt for the one on one singing training session, but there are other methods that might work. They cost nothing or little, so what other ways can you learn how to sing? A sociable way of learning how to sing is by joining a choir, and you are likely to make friends that will opt to teach you for free or you might have to pay a little fee. Another fantastic way of learning how to sing is watching YouTube tutorials and online trainings, but this requires self motivation and drive for you to meet up with live training sessions.
These live sessions might not cost much and you have the advantage of learning from an established singer, and the online training sessions is perfect for anyone who resides in a remote area. Nowadays, there are so many singing competitions and YouTube channels that makes learning how to sing fast and easy, and doing this provides you with a better chance of forming a career in singing for yourself. However, finding out if you want to take singing as a career is different from deciding when to learn how to sing, because you will need to take lessons and be good at it before putting yourself on a stage.
You also have to decide if you are mentally and emotionally ready for everything being a part of the music industry comes with, and making up your mind to becoming a singer has to do with a lot of pressure, hardwork, social media criticism, and many other things. Getting yourself mentally prepared is equal to building your voice and recording a great song. Bearing all these in mind, you will agree with me that there isn't a perfect time to take singing as a career as it varies from one individual to another. There are people who are in their musical prime when they hit the puberty stage, while others might be much later in the future.
Can You Start Singing At Age 13?
Age 13 is when a child starts undergoing vocal changes, and this is nothing to worry about as it has to do with the puberty stage. Starting to sing at this age is fine, but you should only take gentle singing trainings. This is more important for a boy that has already experience a voice break, and it falls to your singing teacher to teach you all you have to know during this period. That being said, you can start singing at age 13, and it is a known fact that Shakira began her singing career at the age of 13.
Finally, finding a musical teacher that your child will easily relate with is very vital towards helping your child learn how to sing. There are teachers that have the ability to bond with any individual, and others have to find the right match for their child. It is also okay for you to schedule a trial teaching session with your child so you can see how it goes.