If you are reading this post because you have an old head unit with no RCA jacks and want to connect an amplifier to your car audio system, you have found the right page with all the answers you need.
Installing an amplifier in your car tends to be complex sometimes, and it becomes more complicating if there are no headphone jacks. This post talks about how to hook up and install an amp without RCA jacks.
Just because an old head unit lacks an RCA jack doesn't make it useless in any way, and it is of great importance that you install an amplifier in your car to enhance the power for the subwoofers or running speakers.
Several methods are available for everyone when hooking up or installing an amplifier, but this depends largely on what type of equipment you want to install and what methods are available for connection.
Before taking any step, make sure that the amplifier you want to install or hook up accepts line or speaker connections.
On the other hand, you need to check if the amplifier's RMS power is very close or lesser than the speaker's RMS power. There is a high tendency that your speaker is vulnerable to damage if the amplifier's RMS is higher than that of the speaker.
Trendy Post – Bass Vs Electric Guitar
Anyone new to amplifiers and speakers might be wondering what RMS means, and RMS also implies root mean square.
The root means square talks about the power at which an amplifier or speaker can function continuously, but one thing you shouldn't do is confuse root mean square for peak power. On the other hand, peak power refers to the highest power an amplifier or speaker can get.
The peak power is the power an amplifier or speaker cannot work with for a very long time, and anyone who knows the power an amplifier carries would be wondering how to get the best out of it.
Figuring out where to place an amplifier is one of the first things you need to figure out when wondering how to get the best out of an amplifier, and that is what we will be talking about next in this interesting post.
Interesting Post – How To Make Bluetooth Speakers Louder
How To Position An Amplifier In A Car
Where to position or hook up your amplifier is one of the thoughts you ought to be concerned with if you want to get the best out of your amplifier, and there are several places in a car where you can position an amplifier.
You can consider positioning an amplifier behind a subwoofer box, at the sidewall, in between seats, behind the seat, and in several other places. First, however, you need to note a key fact when positioning amplifiers in your car.
You need to ensure that amplifiers are not mounted close to a loose item that is likely to cause damage to the amplifier whenever you are driving your car.
On the other hand, you can consider placing your car amplifier in your car trunk, but it might not be easy to position it in a car trunk if there is luggage inside it. Another thing you need to note is positioning an amplifier where it will be exposed to air.
This is because amplifiers tend to run hot when functioning, and you should ensure that the negative terminal of your amplifier's battery is disconnected before you hook it up or install it inside of a car.
Related Posts – How To Pair JBL Earbuds
How To Hookup And Install Amp Without RCA Jacks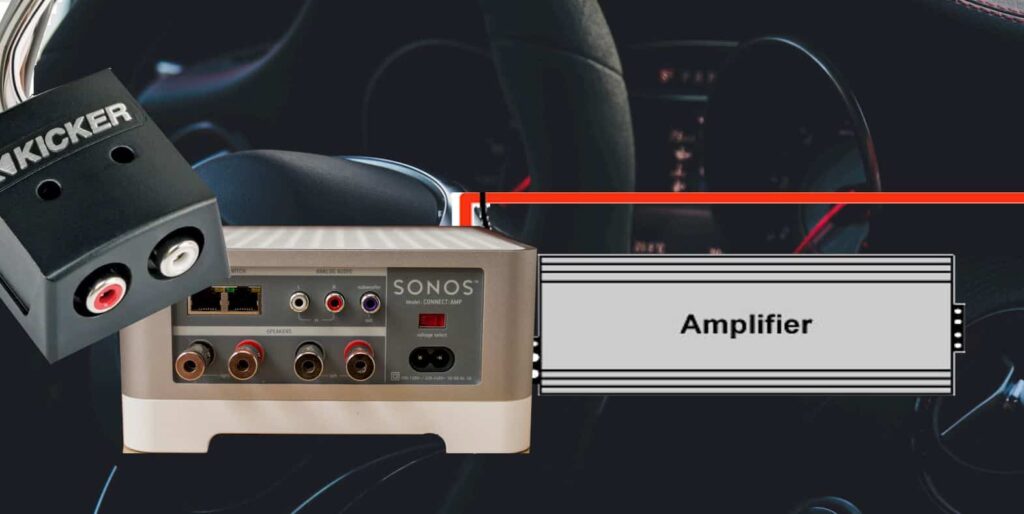 It is time to show you how to install amplifiers without using RCA jacks. Trust me when I say there isn't much to know as you can accomplish it in three simple steps,
1. Connect Speaker Wire To RCA Adapter
Connecting speaker wire to RCA jacks is the first step you need to take when installing an amplifier without RCA jacks. Using this method ensures you add your amplifier to your car's already existing audio setup.
Using this method will provide your car audio system with a bass boost, and trust that sounds that come from your car will be clear and loud.
Some people do not know that it is possible to connect an amplifier to their car audio setup, but this post will prove it all to you today. Two RCA plugs are used in this method, and you can connect wires to the RCA plug from the speaker.
2. Make Use Of High-Level Amplifier Inputs
High-level amplifier inputs are also referred to as speaker-level input, and the voltage present in this input is higher than that of a RCA input.
This input offers an amazing and clear sound quality, and running the red power wire from the amplifier to the firewall of your vehicle is how you can install your amplifier via this method.
The next step is running a connection to the battery and head unit after you have mounted the fuse holder. Furthermore, mount the blue turn-on wire and the red power wire under door panels or seats to the amplifiers,
3. Using Line Output Converter
Another method you can use when trying to hook up an amplifier without RCA jacks is the use of a line output converter.
You can make use of a line output converter using mono-channel amplifiers or two-channel amplifiers, and this is one of the best methods you can opt to use when trying to install an amplifier without making use of RCA jacks.
It would help to look for leads connecting to the amplifier and factory radio to speakers found behind the head unit.
It would help if you used a stripper wire to cut out an inch of each of the insulation wires, making it possible for the left line output converter channel to be connected to the left speaker channel. The same applies with the right line output converter to the right speaker channel.
Conclusion

This is where we round it up on this interesting post that talks about How To Hookup And Install Amp Without RCA Jacks, and these three methods we have provided in this post are the best methods you can opt to take.
Trust me when I say adding an amplifier to your already existing car audio setup is a great idea, and you can count on any of the methods to get the job done if you are not using RCA jacks. Good luck dear, dear readers.