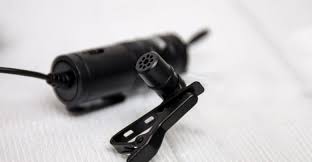 One device or instrument a filmmaker must have in his gear is a lavalier microphone. Lav mics are commonly called microphones that will offer impressive audio results when used in film production.
They are considered the best audio solution for a one-person crew, and it is recommended for entry-level videographers thanks to their easy-to-use design. You will learn more about the best lav mics for film and how to use them.
Film-making doesn't just have to do with capturing the best video footage, but it also has to do with capturing the best audio sounds.
It is one fact that is constantly being overlooked because so many people think they should consider the audience about what they see rather than what they want to hear, and trust me when I say this is wrong. There is hidden quality in what a person hears when watching a movie, and you need an excellent mic to do that.
Your microphone doesn't need to sound bad before your audience comes out to complain about poor audio quality, but not hearing audible sounds can also put them off about the entire film.
If you are a professional or entry-level filmmaker, you need to do all you can to avoid finding yourself in this sort of situation, but how can you go about it? You do not need to worry much as this detailed review will show you the best lav mics for film you can count on.
Before we go ahead to introduce you to the best lav mics for film we have ready for you in this guide, you need to have excellent knowledge about lavalier microphones. Having a good understanding of these microphones puts you in a perfect position to make a good choice when shopping for one.
What Is A Lavalier Microphone
Lavalier microphones or lav mics are small-sized microphones that can stay hidden on a person when making a film, and you can opt to place lav mics inside or outside a piece of clothing.
Interestingly, lavalier microphones can be wireless or wired microphones, and filmmakers love using this type of microphone for filmmaking, documentaries, stationery scenes, and interviews. Let us tell you more about the wired and wireless lavalier mics.
Wired Vs. Wireless Lavalier Microphones
Anyone who has worked with wired and wireless microphones will be aware of their advantages and disadvantages. For example, wired lavalier microphones are not ideal when used on a moving subject, so wired lavalier microphones can only be when an issue is stationary or seated.
A wired lav microphone can restrict the movement of a moving object, but a wireless lavalier microphone, on the other hand, offers convenience.
When using a wireless lavalier microphone, you are likely to come across some technical issues. There is also a possibility that the microphone and receiver might experience interference, resulting in static sounds. Therefore, to make a good choice, you have to be aware of the situation you want to use your microphone in.
Best Lav Mics For Film – Buying Guide And Recommendation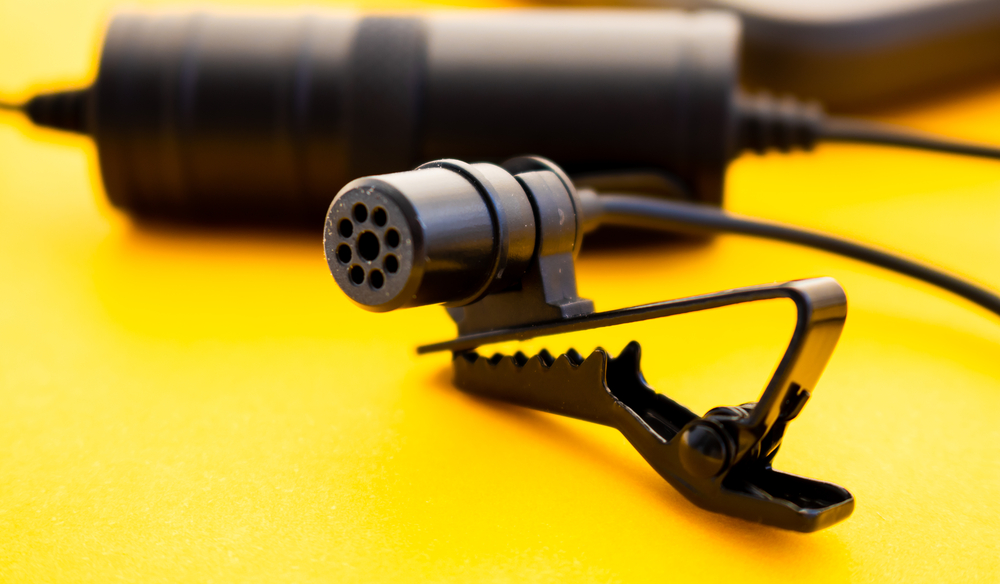 There are various qualities of lavalier microphones you will find when you shop for a good one, and these microphones range from cheap to affordable to expensive microphones.
The audio fidelity of a lavalier microphone might vary from one brand to another, and this can make it very difficult to make up your mind on which lavalier microphone to go for.
If you have ever used a lavalier microphone before, you will agree that they are very nifty microphones. So many people are obsessed with having this high-quality microphone among that gear irrespective of overall build, size, and shape.
It is because of the benefits that come with using a lavalier microphone. Still, it would help if you were careful not to leave the market with the wrong quality product because you focus on its benefits alone.
Top 5 Best Lav Mics For Film Reviews
1. Movo WMIC50 2.4GHz Wireless Lavalier Microphone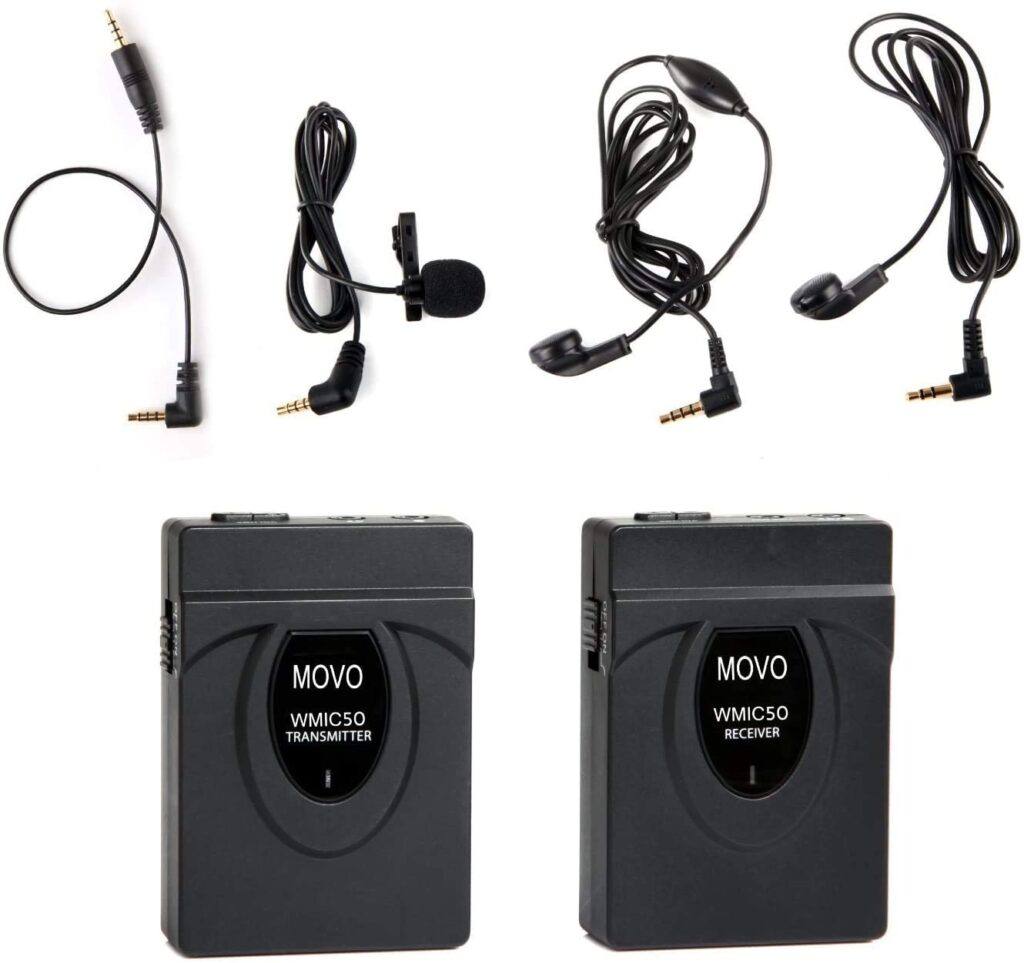 Suppose there is any lavalier microphone that meets the budget-friendly description. In that case, the Movo WMIC50 is the one, and what interests users the most about this microphone is its low self-noise and impressive audio quality.
It has an excellent battery life that will last as long as four hours on a shoot, and users will find it very easy to pair its receiver and transmitter. As a result, it is the best mic for podcasts, recordings, presentations, tutorials, and more.
It comes with every other accessory you might need, like a camera shoe, receiver, belt clip, and two earphones.
Specifications
Product Name – Movo WMIC50 2.4GHz Wireless Lavalier Microphone
Brand – Movie
Item Weight – 2.22 ounces
Key Features
3.5mm TRS plug
4 AAA batteries
What We Like
It has an impressive wireless range
It delivers the best audio sound quality
Its battery lasts long
What We Don't Like
It is limited to a channel alone
It has a cheap plastic material build
2. FIFINE Wireless Microphone System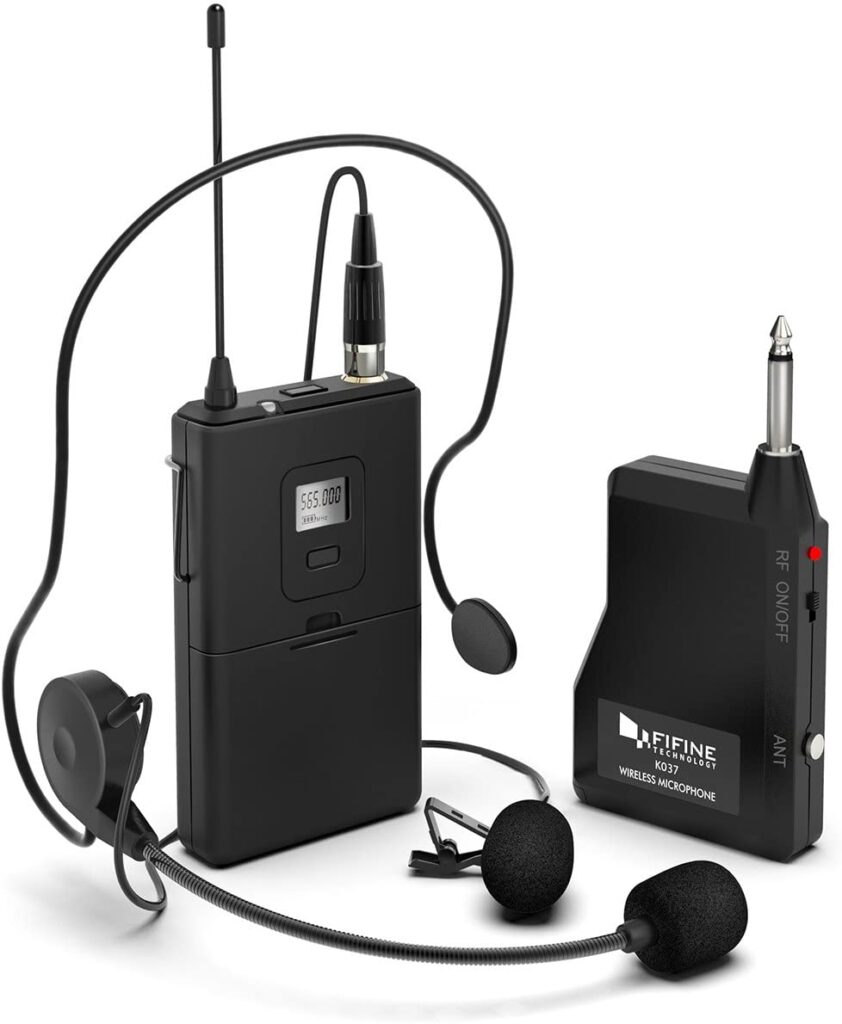 Surprisingly, this lavalier microphone has a decent range contrary to what so many people think about it. If you are searching for a lavalier microphone for film with fantastic sound quality, then this lav mic from Fifine fits the bill.
Using this lavalier microphone means you no longer have to put up with dropouts and static sounds, and setting up this lavalier microphone is very easy.
Interestingly, this microphone features an easy-to-read LCD screen that allows users to monitor information like battery conditions provided on the screen. Its versatility is one feature that we will not forget to mention, as you can pair this microphone with electric guitar amplifiers, PA speakers, and mixers.
Specifications
Product Name – FIFINE Wireless Microphone System
Brand – Fifine
Item Weight – 9.9 ounces
Key Features
Omni-directional pattern
4 AA batteries
What We Like
It will improve sound quality dramatically
It has a decent range
It has an impressive battery life
What We Don't Like
There is a noticeable self-noise
Users complained about this mic having a cheap build design.
3. Rode SmartLav+ Omnidirectional Lavalier Microphone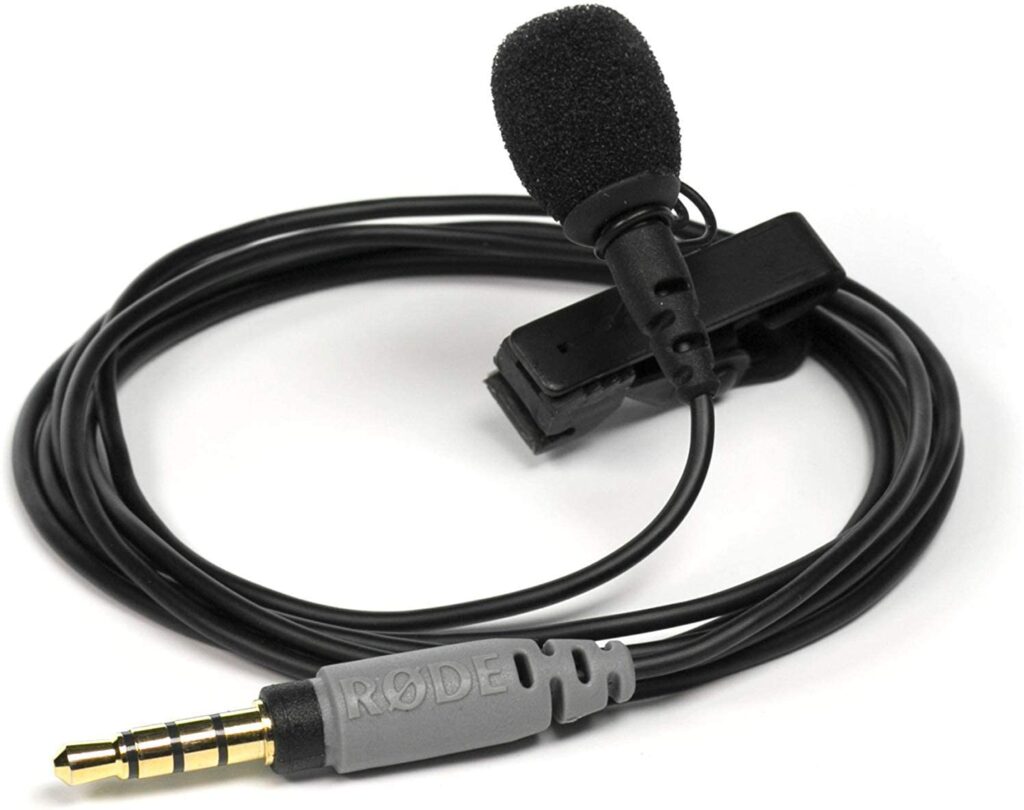 It will be challenging to find a blog that talks about high-quality microphones and doesn't mention a product from the Rode brand. It is because the Rode brand has produced top-class microphones that met user needs and performance for so many years.
One lavalier microphone is designed to offer top-notch broadcast sound quality, making it the best for use in a professional setup.
What intrigues users about this microphone is its kevlar material build that eliminates snapping or stretching while using it under normal conditions. What you are staring at is a microphone that comes with an Omni-directional condenser capsule.
Specifications
Product Name – Rode SmartLav+ Omnidirectional Lavalier Microphone
Brand – Rode
Item Weight – 0.212 ounces
Key Features
Kevlar reinforced cables
TRRS jack
What We Like
It looks handy and simple
It offers excellent sound quality
It is built to be durable
What We Don't Like
4. Deity V.Lav Pre-Polarized Lavalier Lapel Microphone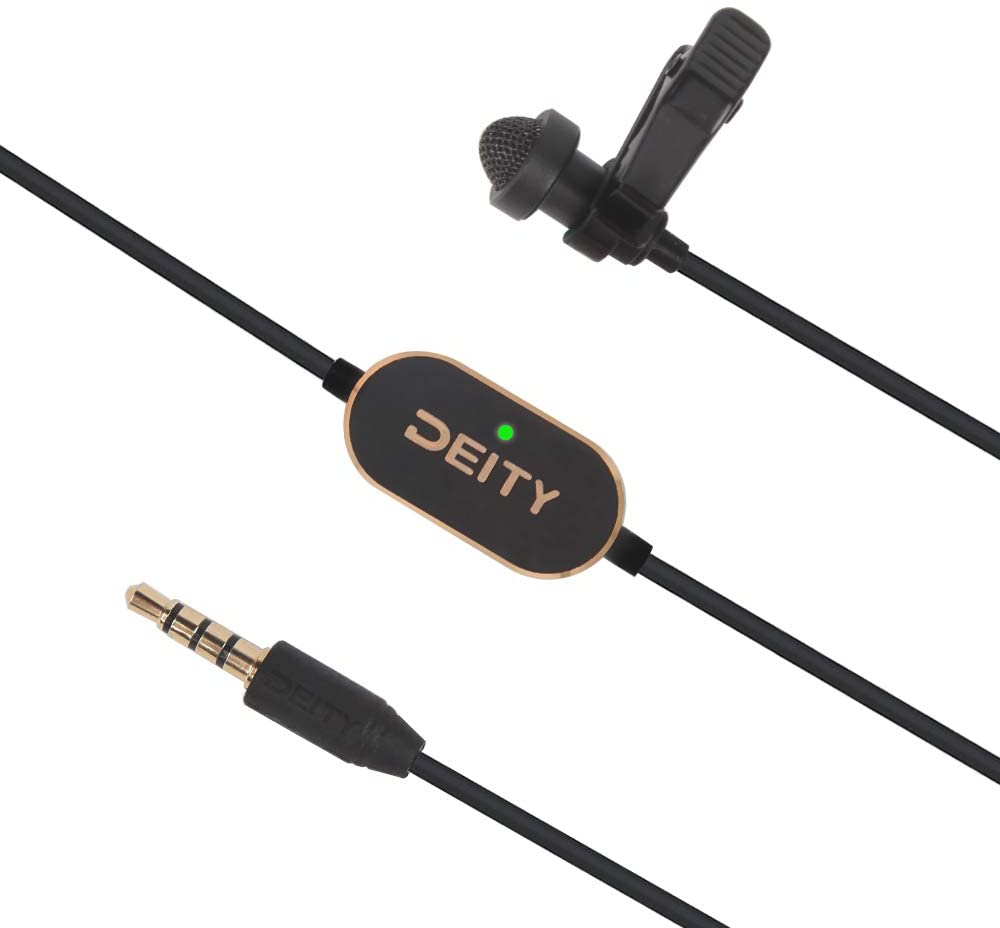 It is a lavalier microphone users will find very easy to work with, and the fact that it encourages mobility is another benefit. Delivering professional audio sounds isn't what you get from every lavalier microphone, but the Deity V lavalier mic will provide professional audio sounds.
Its batteries are built to last longer than expected, and it comes with every necessary accessory that will deliver a clean and crystal clear hands-free audio quality.
Specifications
Product Name – Deity V.Lav Pre-Polarized Lavalier Lapel Microphone
Brand – Deity
Item Weight – 3.84 ounces
Key Features
3.5mm TRS connector
Dual LR41 batteries
What We Like
It has a reasonable price
It delivers a unique audio sound experience
What We Don't Like
5. Sennheiser Pro Audio ME 2-II Omnidirectional Lavalier Microphone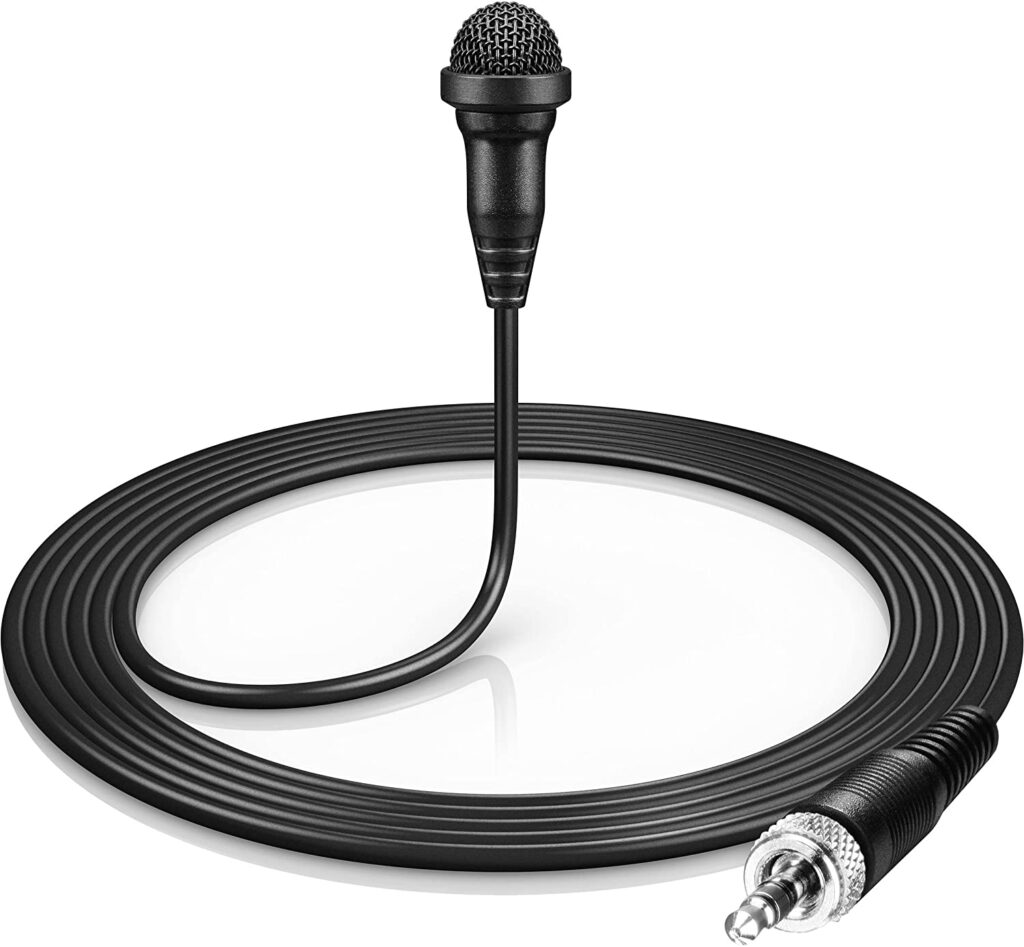 The Sennheiser is yet another brand that people trust to deliver excellent products, and so many brands cannot match the sound quality this lavalier microphone provides.
It has an impressive overall build quality as it is designed using premium materials alone, and what so many users find remarkable about this microphone is the detachable screen it comes with. Finally, this is a budget-friendly lavalier microphone.
Specifications
Product Name – Sennheiser Pro Audio ME 2-II Omnidirectional Lavalier Microphone
Brand – Sennheiser
Item Weight – 0.8 ounces
Key Features
Mini-jack
Speech line digital wireless
What We Like
It records very loud
Portable but powerful
What We Don't Like
Produced static sounds after nine months of use
Using a lavalier microphone will greatly improve the audio quality because of how discreet, convenient, and powerful a lavalier microphone is designed to be.
They are also good at enhancing the audio quality of recordings and speeches, and I am sure you are thrilled by the benefits we have mentioned. So before making a payment for a lavalier microphone, go ahead and check out these factors so you can make a well-informed choice.
Similar Product to look at Best Boom Mics For Film
How To Pick The Best Lavalier Microphone For Film
It can be a little bit tricky to work with a microphone, and finding the right one to work with is more difficult and tricky.
It also gets tougher when you are shopping online because you do not physically see the item you want to purchase, but here are a few factors that should be considered when you go out to shop for the best lav mic for the film.
Audio Quality
An expensive microphone that doesn't deliver the audio quality you want is still considered a useless microphone that isn't worth its price tag. However, it is one situation you want to avoid when shopping for a lav mic.
A standard about lavalier microphones is that they are built to sound better despite their small size, and the reason why they sound better is that they are placed or positioned close to the source speaking.
There are slight differences in noise and noise floors, but these are not enough to interfere with a lav mic's audio quality.
Microphone Head Size
The microphone head size can make your job easy or difficult depending on what you need it for, and using a small microphone makes it easy to conceal and less likely to affect your production.
Microphone heads with small profiles are the best choice if you want to use them for several professional shoots, and this microphone head is also perfect for outdoor use.
Accessories
People will tell you that the accessories manufacturers send some unnecessary products, but that statement is a lie. Those little accessories are not meant to be thrown away as they all work together to make sure the microphone delivers the best audio sound performance.
So make sure when you are shopping for a lavalier microphone, it will come with all the necessary accessories that you will need when working.
Build Quality
The best and reliable lavalier microphone will not get damaged when accidentally dropped on the floor, and this is because no one can be too careful not to allow it to slip from the hands or clothes and fall to the ground.
Lavalier microphones should be designed with materials that will offer protection when it drops to the ground. But, of course, we all know that it is impossible to go to a war zone in Afghanistan without a bulletproof vest, right?
Your Budget
Surprisingly, lavalier microphones all come at a meager price. Unfortunately, there isn't a wide range in the prices of lavalier microphones. Still, you will get a microphone of impressive quality when you opt for a higher-priced lavalier microphone.
However, it won't hurt to pick a lavalier microphone that falls within your budget. Like we always say, the price of a commodity doesn't determine the value of an item.
Read this post on how to connect your mic to a computer or laptop.
Final Thoughts – Best Lav Mics For Film
If you are shopping for a lav microphone for the first time, you are good to go with any of the options we have discussed, and you can trust the microphones to provide you with the best audio sound quality you look forward to.
If you want to replace the one you have in your gear, the information we have provided for you in this guide will help you make a detailed choice.
Related Posts
My name is Johnson Lewis and I am a music coach, producer and Blogger. I enjoy writing about music, instruments, music equipments and I love helping people become better singers.