If you are making a list of the well known guitarists in the world, Jimi Hendrix is one person that is going to make this list. Blending lead riffs with the use of rhythmic chord changes was one unique style of play Jimi Hendrix had in his time, and this style was a very major influence in music generally. People know Jimi Hendrix as one of the famous guitarist of all time, but what guitar did Jimi Hendrix play in his time?
We officially welcome you to this interesting post if you seek answers regarding the type of guitar Jimi Hendrix played, and unlike anyone, Jimi was known for playing in an unorthodox style. So many guitarist before Jimi Hendrix all made use of the string bending and pentatonic style of play, but Jimi Hendrix was the one person that took this style to another level entirely.
If you take a look at so many guitarist today, you will realize that plenty of them get their inspiration from Jimi, or Hendrix, or try to copy his style of play. His style of play isn't something that can be achieved overnight, but it is what giving it a try. Over a short career in music, Jimi Hendrix played several guitar instruments, and made use of several pedals and amps.
However, people will refer to his stratocaster which had a white color when asked what guitar did Jimi Hendrix play. One feature that made Jimi Hendrix stand out from all other guitarists was the fact that he played the guitar using his left hand, while his right hand was used for stringing upside down. This is another unique playing style that makes it impossible for anyone to level up with.
Getting a strat guitar is the first thing to do if you want to learn how to play like Jimi Hendrix, and trust me when i say that Jimi playing the white stratocaster with his unique playing style made the brand very popular. Everyone desired to sound like the unorthodox and influential Jimi Hendrix, but there is something you need to know. This is a guitar cannot make a guitarist, but it is possible for a guitarist to make a guitar.
Some of the guitars Jimi Hendrix played in his include;
White Stratocaster
Gibson SGs
Gretsch Corvette
Flying Vs
Les Pauls
Fender Duo Sonic
Danelectro Shorthorn 3012
Jazzmaster
Other acoustic guitars
Surprisingly, the White Strat guitar wasn't the first ever instrument Jimi Hendrix played. The first stringed instrument he played as an ukulele he found among trash in an old lady's apartment, and the lady went on to allow him have it. This ukulele instrument had just a string, but Jimi Hendrix used it in playing and singing alone to Elvis Presley songs. At the age of fifteen, Jimi Hendrix had his first acoustic guitar, but no one knows what brand this guitar was.
Watching other guitarists and playing how they played is how Jimi Hendrix learned how to play the guitar, and some of the guitarists that influenced Jimi Hendrix includes;
BB King
Muddy Waters
Howlin Wolf
What Guitar Did Jimi Hendrix Play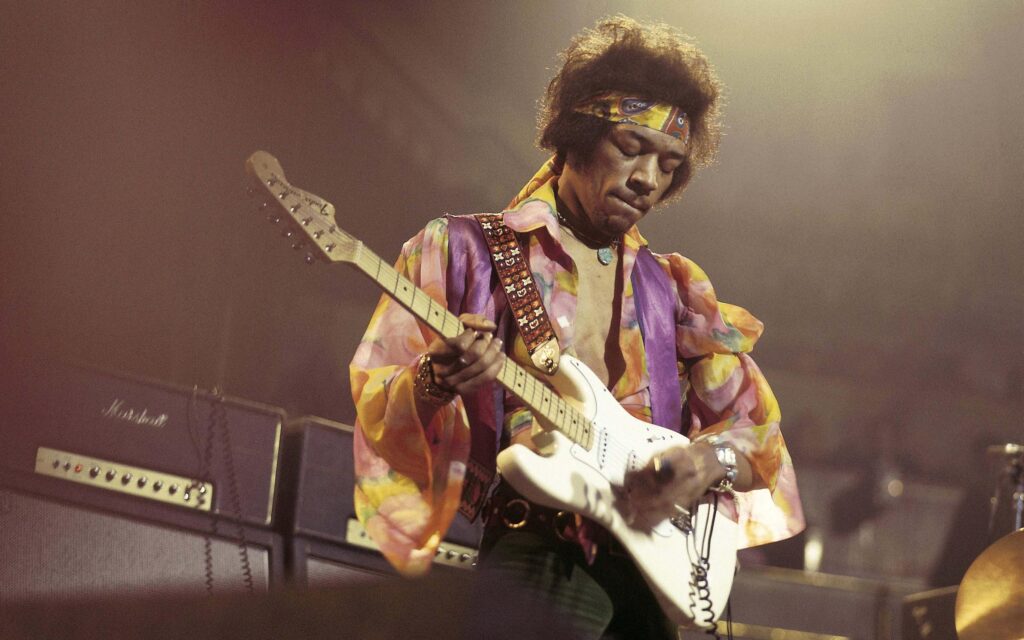 Jimi Hendri called his first ever band the Velvetones, but he was a menber of the Rocking Kings band where he was able to play at local venues. He formed a band called the Casuals during military service, and his fellow service man Billy Cox was also a member of the band. Him and Billy relocated after service to form the band called King Kasuals, while Jimmy James and the Blue Flames was formed in 1966.
The type of strings Jimi Hendrix made use of are strings that are impossible to find in a set, and the reason why he could work with strings not found together in a set was because he picked and formed them himself. This is an interesting fact about Jimi's journey in music, but we do not advice people to go ahead and copy the same type of strings Jimi used when playing his guitar.
Trendy Post – Types Of Percussion Instrument
Just like we mentioned earlier, it is very impossible for any amp, set of strings, or even a guitar that can replicate the style Jimi Hendri displayed during his time in music, but what you need to play or sing like Jimi Hendrix is the right set of comfortable instruments and fuse them with constant practice so you can develop your own style of playing. It is okay to be influenced by Jimi Hendrix, but one thing you should know is you cannot replicate his style.
Jimi Hendrix's Kind Of Music
When asked what type of music Jimi Hendrix played, so many people will answer this question differently. You might ask yourself why there are so many different answers to this question, but the reason for this is simply because Jimi's kind of music isn't straightforward. Describing the type of music Jimi Hendrix played will leave you with words like blues, rhythm and blues, rock, hard rock, and psychedelic rock music.
Attaching a particular label to Jimi Hendrix music is something that would not work as so many people have tried doing it and failed. Jimi was so versatile in making music and playing the guitar that he made use of several amps while playing the guitar. The most popular amp he used was the Marshall amp, but he made use of whatever amp he found in the studio when he was playing for several artists.
At some point in his career, Jimi Hendri had a contract with Sunn amps, while other amps he made use of are the Fender Twin Reverb amp and Bassman amp. One point we will like you to note about Jimi Hendrix's music is the equipment he made use of were not solely responsible for the way he sounded while playing or making music. Everything you know or hear about Jimi Hendrix is how he is as a person, simple and pure.
The magical use of effect pedals, the unorthodox style of play, and his character were what made him relevant in the world of music.
Check This Out – What Does An RF Modulator Do
Conclusion
Everything we have said about Jimi Hendrix points to the direction of he was such an innovative artist. His sound and unique playing style always stood out no matter the type of music he was making. Even though people are of the opinion that he played an electric guitar, Jimi Hendrix was known to play other instruments comfortably.