Shure KSM137 Review – Is It Worth The Hype?
Large diaphragm microphone constantly get all the praises from the public and the press, but there are roles where small diaphragm microphones can be deployed. These roles include acoustic instrument recording and there are so many microphones that will fit into this application. These microphones are designed by several popular brands we consider as household names, and some of these microphones are affordable for people shopping on a budget.
The Shure company introduced the Shure KSM137 microphone which people can get at an affordable price, and this microphone model has a simple design and structure that makes it easy to use in several applications. This microphone has a fixed cardioid polar pattern with an 'end address' design, meaning it is the end of this microphone that should be pointed towards the instrument getting recorded and not the side of the microphone.
Just like we mentioned earlier, there are plenty applications where this microphone can be used, but the most popular of all remains when milking electric and acoustic instruments, kick drums, double bass drums, woodwind, brass, and overhead instruments. Interestingly, the KSM137 microphone is similar to the KSM141 microphone, both designed by the prestigious Shure brand.
The difference between both microphones is they switch between the cardioid and omni polar patterns, but they are best used in same applications. Featuring a gold-spluttered, low-mass, thin diaphragm, the Shure KSM137 microphone ensures that a transient response is achieved, and obtaining crystal clear and high quality sounds is possible thanks to its Class-A transformer-less, low distortion, and low noise design.
When designing the circuitry of the Shure KSM137 microphone, only premium quality components were used, and the Shure brand can beat their chest when telling you its external and internal connectors are gold plated. The reason behind making its external and internal connectors gold-plated is for maintaining low contact resistance. Its low cut, three position, recessed switch helps in fighting proximity effect, and this switch is also responsible for cutting down of low-frequency noise when necessary.
There are so many features the Shure KSM137 microphone comes with, and all of these features combine to deliver an outstanding performance you might not get from most microphones on the market. Surprisingly, this microphone comes with a subsonic filter which is found only in expensive microphones, and the purpose of adding a subsonic filter to this microphone is for filtering off mechanical vibrations that are capable of affecting sound quality.
The standard of the Shure KSM137 microphone is one that matches the standard of several highly priced microphones on the market, and it is considered as a standard microphone in the sense that it comes with a protective plastic case and a shock mount. Fighting off vibrations is the purpose of its shock mount, and users can use its protective plastic case to transport this microphone when necessary.
Apart from transportation, its case protects it from scratches during transportation. The Shure KSM141 microphone on the other hand makes use of both the omni-directional and cardioid polar patterns, which is why most people consider it as an unusual microphone. Just like we mentioned at the beginning of this guide, the Shure KSM137 microphone makes use of the super-cardioid polar pattern. This is where the difference lies between both mics.
Shure KSM137 Review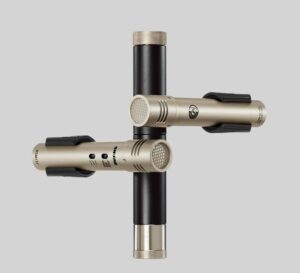 Anyone who is not new to microphone knows there are few brands that can be trusted to make high quality products, and the Shure brand is one of the few brands anyone can trust. Just like we stated in the beginning of this guide, the Shure KSM137 microphone is an end-address microphone, and this is the type of microphone that has a rugged build that makes it completely durable.
Its rugged build makes it ideal for use in live applications, but its design is specifically for studio use. Withstanding high sound pressure levels is a feature any user will find attractive about this microphone, and it is best used for recording instruments as it features the combination of an extended frequency response with a low self-noise design. Precise, durable, and versatile are three main features of the Shure KSM137 microphone.
The outstanding design of this microphone makes it a solid choice when working with wind, percussion, acoustic guitar, piano, and brass instruments, and this is based on the fact that this microphone delivers amazing sound isolation result. It comes with a pad that makes handling sound pressure levels very easy, and below are some of its performance characteristics.
Shure KSM137 Microphone Performance Characteristics
Extended frequency response
Exceptional low-sound frequency reproduction
Ability to withstand high sound pressure levels
Radio frequency interference suppression
Excellent common mode rejection
Uniform polar response
Minimal self-noise
Zero crossover distortion
High sound output
Interestingly, the Shure KSM137 microphone can be purchased as a stereo pair. It comes with standard accessories required for operation, and it also comes with a stereo adapter that makes mounting two microphones possible. Just like most Shure microphones, it requires phantom power to function, or connecting to a 48V power source. Mounting this microphone should be done with a boom or floor stand, and isolating shock mounts should be used if you want to eliminate the possibility of picking up unwanted sounds.
Its flat response will provide natural sounds in several applications, and this microphone will also operate at 11v which will lead to loss in sensitivity and sound pressure level. Several people claimed describing the sound this microphone produces is difficult, because they were quite pleased with its sound quality. In terms of performance and quality, the Shure microphone beats so many microphones that you will find on the market.
Shure KSM137 Review


Unlike several other complex microphones on the market, users will find this one easy to use. This is because it has a simple build, design, and features that are easy to comprehend. All of these makes working with this microphone convenient and easy. The appearance of this microphone is what so many find attractive about this microphone as it comes in a champagne color finish. Its foam windscreen and carrying case are some of the accessories it comes with so you can get to work when this microphone arrives at your doorstep.