There are scarce qualities that earned the man the name 'the vocal chameleon,' as his voice speaks about brightness and class. Today, most singers want to learn how to sing like Brendon Urie, but that isn't something you achieve easily.
Brendon Urie is a renowned personality in the world of music. He became very popular because of how he prepared his instrument to become one of the world's best.
Brendon Urie is often described as a rare talent because his vocal range spreads across four octaves which isn't common with every singer. A known fact about Brendon Urie is how he has complete control over his voice and how he tunes his voice while singing can put any audience in a relaxing and comfortable mood.
Being able to project his music nicely and not stressing when he sings are key characteristics of this renowned singer, while his natural tone, unique and good voice can be recognized easily.
He boasts a dexterity, athletic, and agility build, and in some of his songs, he was able to show that he possesses the ability of a singing complex melisma. Listening to Brendon Urie sing will definitely make you fall in love with him, and this is because of the ability he portrays whenever he sings.
If you want to feel like the great Brendon Urie while singing, there are few tips I could show you, and when you adopt these tips, you will make similar music and sound like Brendon Urie himself. These tips generally will improve your singing ability, so it remains a win-win situation for you.
Interesting Read – Benefits Of Learning The Piano As A Child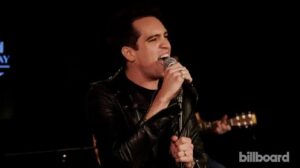 Superlative Breath Control And Vocal Stamina
These are two noticeable features you could pick out when Brendon Urie sings, and each time he sings, it feels like his voice never gets tired of letting those words out. He can sing for lengthy periods, and the way he tunes himself ensures that his lungs have sufficient air in them.
Having sufficient air in his lungs will help sustain for some moments, and he does this successfully without altering his pitch, tone, and stability.
During one of his press releases, Brendon Urie disclosed that his inspiration is fellow singer Gwen Stefani. He admired her when he was still young and learned how to make good use of the Vibrato.
He allows the Vibrato to come out quick and narrow, but it doesn't matter since he can alter at any point with ease. In one of his songs titled 'i believe in a thing called love,' Brendon showed everyone his voice switching ability and being able to sing disjointed lines steadily thrilled the audience during his Miss Jackson live show.
Brendon Urie is simply an extraordinary and multi-talented singer. You could hear him saying the same word line repeatedly without changing the syllables and vowels in one of his performances.
Expansive Lower Range Practice And Mid Range
Brendon Urie possesses a lower range that is shockingly extensive for tenor. This lower range could decrease right in the bottom half of the second octave with ease and comfort, while another area where you could see Brendon Urie in all of his elements is in the mid-range.
The mid-range is his highest range, and this is where Brendon can easily modulate, edit, and change his voice to his choice. Delivering these notes using a compact, solid, and deep tone is another of Brendon's musical prowess, and in all of his shows, he showed emotion and attitude that sometimes gave him away.
Belting Range
Brendon Urie's belting range is resonant, powerful, and expansive, and he does this effectively by combining his chest voice and head. Commanding his head vice and the way he employs it lacks other musicians today, and he can sing on a poignant, radiant, and light falsetto.
Trendy Post – Benefits Of Learning Musical Instruments As A Child
Brendon Urie Vocal Warm-up
Popular for the way his vowels flow easily, Brendon Urie mastered the art of concentrating on vowels. If you want to deal with anxiety, you need to figure out this aspect. However, steady rehearsals will ensure that you master the art of concentrating vowels just like Brendon Urie.
Final Note
If you have gotten to this point, you must have figured out several ways to tune your voice completely so you can get to sound like Brendon Urie. It doesn't matter if you are in a studio, house, or on stage; what matters is taking the right steps and employing the right tips so you can sound similar to Brendon Urie.
Check This Out – What To Drink Before Singing High Notes